Lake Walter Miniature Golf
Lake Walter Miniature Golf at the Yarralumla Play Station is one of the most original miniature golf course in Australia! Canberra has long been in need of a fun, quality course with a difference. The result, one of the LARGEST 'mini' course in Australia! There are no windmills here but you might just spot the High Court and a few other iconic Canberra buildings as you have never seen them before!
All up there 36 Holes set across two different courses with nearly 1800m2 of putting surface! We've managed to preserve the antique feel of traditional mini golf whilst maintaining a light-hearted adaptation of some of the Nation's Capital landmarks. Area specific landmarks include a scale 25m wide Lake Burley Griffin, the Parliamentary Triangle and both the Commonwealth & Kings Avenue Bridges!
Our courses have been designed with every level of player in mind, with some holes having multiple pin placements and different tee off positions to cater for both beginner and advanced players. So every hole is both fun for kids and challenging enough for adults. Hours of fun for all ages in a picturesque location with stunning views of Lake Burley Griffin and the Weston Park surrounds.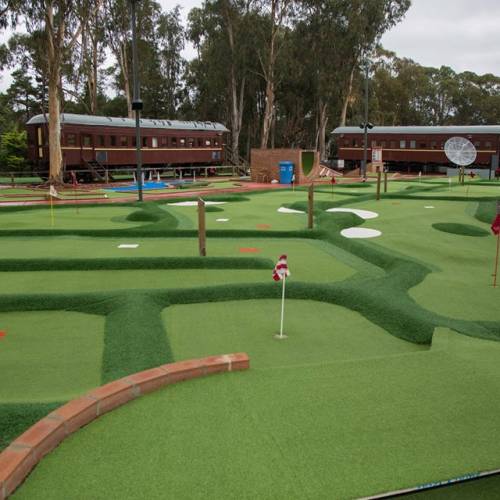 The Courses in more detail
Our Lake Walter Links course is outstandingly beautiful being traditionally sculpted with varied elevations accented by colourful landscaping. Lake Walter links is likened to a regular golf course with multiple grades of turf – just scaled down to half the size for twice the fun!  The main features of this course are the multiple tee off positions and a scale representation of the Parliamentary Triangle that includes Parliament House which looks over Lake Burley Griffin, and up Anzac Parade towards the War Memorial.
Our Lake Walter Putt Putt course has been designed to express traditional putt putt, where players must use geometry to dodge the obstacles and get the ball in the hole! Our Mini Golf is a competitive, challenging game that the whole family will enjoy regardless of age.  Not only are there several iconic Canberra landmarks on this course, but there are also a few special holes that pay homage to other things that Canberra has embraced, like it's love for skateboards and our skateboard parks as well our love for bicycles and our bicyle lanes!  The roundabout hole is still in development but we've encountered some technical difficulties in the design… the ball just keeps going around, and around, and around, and around!
We supply everything you need, golf balls, putters, scorecards & pencils.  All you need is a winning attitude, so whether you are playing for the lowest score or just for laughs, bring a date or a mate and join in the fun! Please note, the last starting time for golf is an hour before closing time
| | 18 Holes | 36 Holes |
| --- | --- | --- |
| Children (15 Years & Under) | $14 | $18 |
| Adults | $16 | $20 |